Refreshing alternatives to alcohol that will keep your guests delighted.
There are numerous reasons that you may be planning a sober reception, be it simply your preference, costs, venue restrictions, or that you or your close family members or friends don't drink, either for religious, health, or safety reasons.  Keeping it sober doesn't have to mean the standard boring beverages like iced tea, coffee, lemonade, and water. We have non-alcoholic drink ideas that will delight your guests and provide them with exciting taste experiences.  Plus, you can reduce guest expectations for alcohol by planning your celebration for daytime, rather than evening.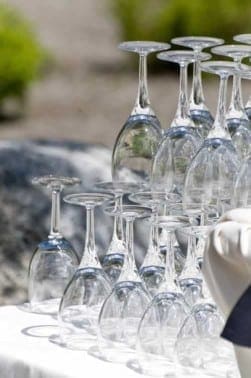 Timing Can Be Everything
You may wish to have your reception at a time when people are less likely to drink alcohol, such as before 2:00pm. If you're both morning people, a sunrise ceremony on the beach or mid morning ceremony in the garden followed up with a breakfast, brunch, or luncheon of your favorite fare may be the perfect choice for you. A traditional tea reception with a variety of teas such as Thai, flavors, and iced complimented by finger foods, cheeses, pastries, and a variety of fresh fruits is another good option. If you're both coffee fans, share your love with your guests by serving cappuccino, , mocha, latte, espresso, and special blends complimented with a variety of chocolate desserts and pastries at a mid afternoon reception.
Exciting Tastes Without the Alcohol
With sober receptions becoming more common, you may find that your venue or caterer has a number of drink ideas that perfectly compliment your menu.  Here is our collection of ideas and recipes to get you started:
Exotic, non-alcoholic drinks, including the selection of regular and blended bar drinks that can be served as "virgin" concoctions, without alcohol. Favorites include tropical Piña Coladas and the classic  Bloody Mary. Ask the catering or bar manager ahead of time to prepare some daring but delicious drinks, to tease and titillate the taste buds of your guests. Or you can pick up an inexpensive bartender's manual and make some of your own suggestions. Don't forget to include Shirley Temples and Roy Rogers for kids of all ages, with lots of cherries and fruit slices on the side.
Non-alcoholic beers and wines, such as the Sutter Home Fre line of non-alcoholic wines.  They also offer quite a variety of amazing recipes that can be made by the individual drink or in larger quantities such as a First Crush, Tropical Tease, Cosmo-not, and Champagne Cocktail Fre.
Punch, made from exotic fruits, juices, and other luscious liquids to create a variety of thirst-quenching concoctions.
A juice and smoothie bar, including all types of blended and non-blended fruit drinks and juices, such as apple cider, pink lemonade, smoothies, protein and ginseng drinks, and any other exotic juices available at your local grocer, health food store, or alternative market.
Floats, malts and shakes, and any other blended or non-blended ice-cream drink you can dream up.
Sodas (a.k.a. "pop"), including the usual array of caffeinated and decaffeinated colas, root beers and "un-colas."
Sports drinks, like the kind that quenches your thirst after a nice long hike or dancing.
Water, whether bottled, plain, flavored, or mineral.
For the Toast
For the toasts there are a variety of sparkling juices on the market, such as sparkling cider and grape juice. Martinelli's has a wonderful selection of champagne alternatives, including:
Sparkling Apple-Cranberry
Sparkling Apple-Grape
Sparkling Apple-Mango
Sparkling Apple-Marionberry
Sparkling Apple-Peach
Sparkling Apple-Pear
Sparkling Apple-Pomegranate
Sparkling Apple-Raspberry
Sparkling Apple-Wild Berry
For a variety of exciting recipes to makes these even more special, such as Martinelli's Mimosas and an Acapulco Sunset, please visit their web site at Martinelli's .
---
Citrus Collins Mocktail Recipe
Ingredients:
3/4 cup chilled grapefruit juice
1/2 Tablespoon lemon juice
1 Tablespoon red currant syrup
cracked ice
Directions: Shake all ingredients, including ice, in a cocktail shaker. Garnish with a fresh lemon or orange slice.
Strawberry Lemon Daiquiri Mocktail Recipe
Ingredients:
1/2 cup lemonade
1/2 cup strawberries
crushed ice
Directions: Add lemonade, strawberries, and  5 ice cubes to  blender. Blend until slushy. Add more ice if needed. Garnish with a sugared strawberry on the rim of the glass. Add a little umbrella.
Acapulco Gold Mocktail Recipe
Ingredients:
1/4 cup pineapple juice
2 Tablespoons coconut creme
2 Tablespoons whipping cream
2 Tablespoons coconut
Directions: Mix in a blender. Garnish with a slice of pineapple on rim of glass.
Mimosa Mocktail Recipe
Ingredients:
1/2 cup orange juice
1/4 cup chilled seltzer
Directions: Pour orange juice into glass, followed by chilled seltzer.
Vodka Sour Mocktail Recipe
Ingredients:
2 Tablespoons lemon juice
1 teaspoon sugar
1/4 cup water
ice
Directions: Add ingredients to cocktail shaker and shake over ice. Strain. Garnish with maraschino cherry and lemon twist.
Mojito Mocktail Recipe
Ingredients:
2 teaspoons sugar
4 mint sprigs
3 Tablespoons lime or lemon juice
1/2 cup club soda
2 dashes Angostura Bitters
Directions: Add mint, lime juice, and sugar to the bottom of glass. Crush with muddler. Add remaining ingredients and stir.
Pink Champagne
Ingredients:
1 1/2 cups Sparkling apple cider, chilled
1 1/2 cups Sparkling cherry-flavored mineral water (or club soda mixed with cherry flavoring syrup)
1 cup Cranberry juice
Directions: Stir all ingredients until thoroughly mixed.
Cranberry Sparkler
Ingredients
1 1/2 ounces Blackberry Puree
2 ounces white cranberry juice
2 to 3 ounces sparkling water
1 sprig mint, for garnish
Directions: Place blackberry puree and cranberry juice in a champagne flute. Add sparkling water to fill. Garnish with mint.
Sparkling Virgin Cosmo
Ingredients:
Ice
2 ounces cranberry juice
1 ounce fresh lime juice
5 ounces club soda or seltzer
Lime wedges for garnish
Sugar for frosting (optional)
Directions: Pour ice into a shaker or tall glass. Add cranberry juice, fresh lime juice and club soda. Shake to combine. Run a lime wedge over the outside rim of a chilled martini glass. Pour sugar onto a small plate or flat surface. Dip the rim of the glass into sugar until covered with a thin border. Strain carefully into a chilled martini glass. Garnish with lime.
Agave Blackberry Mint Mojitos
Ingredients:
¼ cup fresh (or organic frozen) blackberries
4-6 fresh mint or basil leaves (or a mixture of the two)
1 cup sparkling water
½ lime, juiced
1 ½ tablespoons agave nectar
1 cup ice
Directions: Muddle (smash well with a wood spoon) berries, herbs, agave, ice, and lime juice, in a large glass or martini shaker. Add sparkling water and more ice and enjoy.
Cherry Bombs (Makes 6 Drinks)
Ingredients:
1 cup grenadine
1 liter clear citrus soda, or seltzer
18 maraschino cherries
Directions: Place 2 cups water in a medium saucepan, and bring to a boil over medium-high heat. Add grenadine; stir to combine. Pour mixture into two ice-cube trays. Freeze until solid, 2 hours or overnight. Fill six glasses with grenadine ice cubes. Top with soda. Garnish with cherries, and serve.
Red-Apple Sangria (Makes 1 Gallon)
Ingredients:
2 quarts fresh apple juice (from 16 red apples, cored but not peeled), plus 1 apple, thinly sliced
1 cup fresh lemon juice (from 6 lemons), plus 1 lemon, thinly sliced
1 quart fresh orange juice (from 10 oranges), plus 1 orange, thinly sliced
1 bottle (24 1/2 ounces) sparkling white-grape juice, chilled
Directions: In a pitcher, combine the apple and lemon juices immediately after juicing to keep the apple juice pink. Stir in orange juice; cover, and chill. Just before serving, add grape juice and sliced fruit.