Free Guide: Selecting Your Vows – Simple Vows for Your Vow Renewal
This guide will give tips on selecting your vows and includes sample simple vows for couples who have been together any number of years.
Renew Your Vows with Simple Elegance and Profound Meaning
As you approach the momentous occasion of renewing your vows, you're filled with gratitude for the years of love and cherished memories you and your partner have shared. This special milestone calls for vows that capture the essence of your enduring commitment with simplicity and profound meaning.
Introducing our exclusive eBook, "Renewal Vows: Embracing Simplicity and Renewing Your Love." Crafted for couples of all ages seeking a vow renewal ceremony that embodies the beauty of simplicity, this guide will help you create heartfelt and meaningful vows that celebrate your journey together.
Inside this eBook, you'll find a treasure trove of vow inspiration and simple sample vows that beautifully express the depth of your love and the significance of this moment. We understand that you value the power of simplicity, and each vow has been carefully selected to evoke heartfelt emotions while being concise and elegant. Whether you desire to renew your vows with a touch of traditional charm or a modern twist, our eBook offers a diverse range of options to suit your unique style.
Renewing your vows is an opportunity to reaffirm the love that has grown stronger over the years and to express your unwavering commitment to one another. With "Renewal Vows: Embracing Simplicity and Renewing Your Love," you'll embark on a journey of inspiration, guided by our curated selection of heartfelt vows. Each vow has been thoughtfully crafted to honor the journey you've shared, and to inspire you to express your love in a way that is simple, yet deeply meaningful.
Don't miss the chance to create a vow renewal ceremony that resonates with the essence of your love story. Click the button below to download your complimentary copy of "Renewal Vows: Embracing Simplicity and Renewing Your Love" and unlock the power of heartfelt simplicity in your vow renewal ceremony.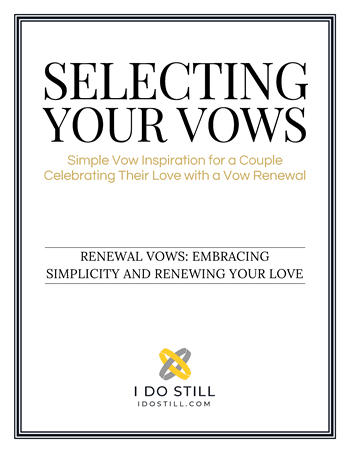 Whether you're wanting to write your own vows, looking for inspiration, or hoping to find just the right one, this guide will help.
We have brought together a collection of simple vows perfect for couples who either married recently or are celebrating their marriage after many years together. So if you're celebrating your 1st to 85th anniversary, you should find something that speaks to your relationship and years together. You are invited to use them as they are, mix and match them, or simply find inspiration in them for writing your own vows.
Download your free guide now and be on your way to finding the perfect vows for your vow renewal!
Vow Inspiration - 25th Anniversary
"*" indicates required fields