Free Guide: Selecting Your Vows – Religious Vows for Your Vow Renewal
This guide will give tips on selecting your vows and includes sample religious vows for couples who have been together any number of years.
Deepen Your Spiritual Connection in Your Vow Renewal Ceremony
As you prepare to renew your vows, you recognize the profound spiritual connection that has sustained your love and guided your journey together. Whether you identify with Christianity, Islam, Hinduism, Judaism, Buddhism, Sikhism, Baha'i Faith, or embrace a spiritual connection beyond any specific religion, your vow renewal ceremony is an opportunity to express your devotion and strengthen your bond on a spiritual level.
Introducing our exclusive eBook, "Sacred Vows: Inspiring Words for Spiritual Vow Renewals." This guide is carefully crafted to cater to couples like you who seek vow inspiration and sample vows that align with your spiritual beliefs and values.
Inside this eBook, you'll discover a rich tapestry of vow inspiration and sample vows, thoughtfully organized to embrace the diverse spiritual traditions that resonate with your hearts. Each section within the eBook caters to a specific religious or spiritual path, allowing you to explore vows that align with your own beliefs and traditions.
For those who find solace and guidance in Christianity, our eBook offers a collection of vows that reflect the love and teachings of Jesus Christ. If you embrace the tenets of Islam, you'll discover vows that honor the principles of faith, love, and commitment in the context of your Islamic beliefs. Hinduism, with its deep reverence for cosmic forces and divine union, inspires vows that embrace the sacredness of your connection. Judaism, Buddhism, Sikhism, Baha'i Faith, and spiritual connections beyond organized religion are all represented in our eBook, offering vow inspiration and sample vows that honor the core principles and beliefs that shape your spiritual journey.
Renew your vows in a way that deepens your spiritual connection and honors the path you've walked together. Click the button below to download your complimentary copy of "Sacred Vows: Inspiring Words for Spiritual Vow Renewals" and unlock a world of vow inspiration and sample vows that resonate with your spiritual beliefs, allowing you to express your love in a way that is sacred, profound, and deeply meaningful.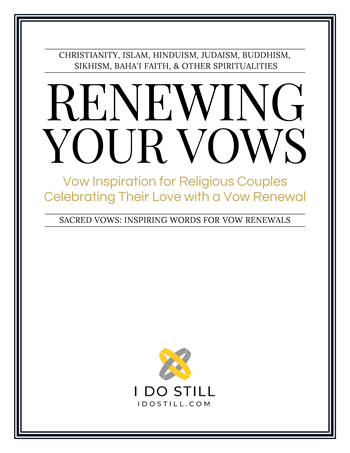 Whether you're wanting to write your own vows, looking for inspiration, or hoping to find just the right one, this guide will help.
We have brought together a collection of diverse religious vows perfect for couples who either married recently or are celebrating their marriage after many years together. So if you're celebrating your 1st to 85th anniversary, you should find something that speaks to your relationship and years together. You are invited to use them as they are, mix and match them, or simply find inspiration in them for writing your own vows.
This book includes vows for the following religions and faiths:
Christianity
Islam
Hinduism
Judaism
Buddhism
Sikhism
Baha'i Faith
Download your free guide now and be on your way to finding the perfect vows for your vow renewal!
Vow Inspiration - Religious Vows for Your Vow Renewal
"*" indicates required fields