A Mini Moon! Romance on a Tight Schedule
You're probably wondering, what is a mini moon and why is it perfect? A mini-moon is a short getaway that busy couples share when their schedules simply don't allow for a long trip. It's the perfect answer for a busy professional couple wanting to escape from the rest of the world after renewing their vows. You can even plan your destination vow renewal for two on your mini-moon. Think romance over a long weekend!
The Advantages of a Mini Moon
You can do it over a long weekend
Explore a busy city or tropical island
Sample local cuisine and restaurants
Release stress and reconnect
Enjoy a break from work and/or kids
Test out potential future vacation sites
The best mini moon destinations are those within driving distance or accessible through a short flight. You don't want to spend all of your time together in the car or airport, so try to pick a location where the total travel time is under 4 hours each way. This is a great time to visit that romantic little inn you've had your eye on, major luxury resort, or relaxing spa. Ask about packages for romantic weekends – you might be surprised to find how many destinations offer special deals on a weekend of pampering and relaxation. Just pack your bags and head out after that last client of the day!
Romantic Destinations for a Mini Moon
The possibilities are truly endless for mini moon destinations. Here are some of our favorites:
Santa Barbara, California: Couples looking for a West Coast getaway will find solace in this quiet seaside paradise. Ride beach cruisers along the boardwalk path downtown, watch the sun set over the water on Butterfly Beach and explore the many shops, restaurants, and galleries along stunning State Street. Head to any of the region's outstanding vineyards and spend an afternoon picnicking and sampling wine. End your days with a romantic dinner for two by soft candlelight and an ocean view at one of the many restaurants along the beach.
Las Vegas, Nevada: With endless discounts, excitement, and entertainment, Las Vegas offers something for everyone. Planning your mini-moon in the city that never takes a breath will surely melt the built-up tension and stress of your busy lives. Be sure to schedule spa services, make dinner reservations, and get tickets to Zumanity for a weekend to remember.
Mexico: From the sun-drenched shores of Los Cabos to the turquoise coast of the Riviera Maya, you'll find over-the-top hotels that cater to couples only for that perfect mini-moon getaway. Combined with the ancient allure of the Mayan civilization, Mexico offers an array of romantic adventures for couples– ranging from endless shopping to beautiful cultural scenery.
Aspen, Colorado: This upscale mountain town is perfect for the couple looking for a mix of adventure and style. Aspen boasts spectacular views, prime winter attractions, and first-class slopes. Take your pick from its luxury resorts, ritzy restaurants, state of the art spas, and high-end shopping. Nightlife is in full-swing with visitors flocking to the area's many live music venues, posh lounges, and buzzing clubs. Spend your days shredding snow and sipping hot cocoa and your nights relaxing in the Jacuzzi and enjoying champagne by the fire in this winter hot spot.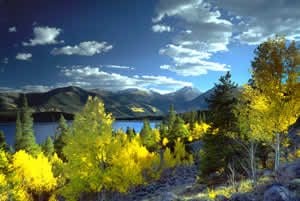 Pocono Mountains, Pennsylvania: Many romantic mini moon getaways have taken place at the Pocono Mountains – a year-round vacation destination located in northeastern Pennsylvania. The outdoorsy couple may truly appreciate their surroundings, which are filled with valleys, rivers, lakes, and waterfalls.
Smoky Mountains, Tennessee: Spectacularly beautiful, riddled with waterfalls and populated with mighty pines, the Smoky Mountains on the southern tip of the Appalachians are a pastoral paradise. In addition to the lush flora, diverse fauna and jaw-dropping spectacle of the scenery, you'll also find a rich tradition of open-armed hospitality, bluegrass music, and fine Southern cuisine.
Savannah, Georgia: Travel experts consistently refer to this old Southern town as one of the most romantic in the country. Its semi-tropical climate means mild temperatures and beautiful blooms even during cooler months. Explore the Historic District's twenty-four public squares, taking in the old southern architecture, spectacular gardens, and live oaks veiled in Spanish moss. Stroll cobblestone streets along the Savannah River, feast on Lowcountry cuisine, and slow down in the comfort of the sleepy south.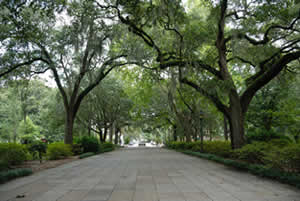 New York City, New York: A perfect combination of sophistication and romance, New York City is a pedestrian-friendly city offering both vibrant tourist attractions and quiet escapes for couples of all ages. Couples can take in a variety of Broadway shows, indulge in a candlelit dinner for two at one of the fine-dining establishments for which the city is famous, snuggle up on a romantic carriage ride through Central Park, and enjoy a stroll across the Brooklyn Bridge and along the promenade.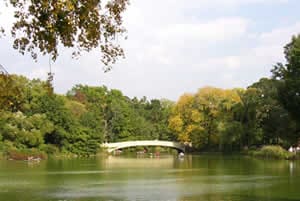 Florida: From Marco Island to Disney World – Florida is filled with plenty of mini-moon destinations. Perhaps a visit to Key West, Miami, or Orlando will lure you into the sun and fun. Be sure to enjoy delights such as decadent key lime pie, local Cuban cuisine, and delightful frozen drinks as you relax.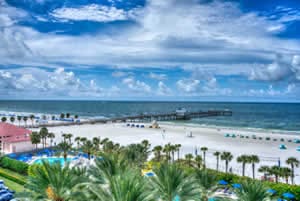 Turks & Caicos: These islands offer the perfect antidote to your hectic life; nearly abandoned, blinding-white sand highlighted by shimmering azure water, colorful coral reefs, crispy conch fritters, and a sleepy, light-hearted atmosphere. It truly is a secluded slice of paradise. Spend your days relaxing on the endless white sand under the warm Caribbean sun and then dine surrounded by tiki torches, steps from the sea, with the gentle sound of the surf as a backdrop.
Bahamas: There's nothing like paying a visit to an island located just a hop, skip, and a jump from the United States mainland. The Bahamas offers more than 700 islands for couples to romp about. Just imagine sinking your toes into white sands. If you're looking for seclusion and privacy, spend a day or two on Cat Island—an untainted, untouched paradise. Explore ancient ruins, dense woodlands, and deserted beaches.