Free Guide: Selecting Your Vows – Vows Inspiration for Your 10th Anniversary Vow Renewal
This guide will give tips on selecting your vows and includes sample vows for couples who have been together for ten years.
Celebrate a Decade of Love with Vows That Echo Through Time
Congratulations on reaching the extraordinary milestone of your 10th anniversary! A decade of love, commitment, and cherished memories is an achievement worth celebrating. As you prepare to renew your vows and commemorate this significant moment, it's time to find the perfect words that honor the depth of your bond and the beautiful journey you've embarked upon together.
Introducing our exclusive eBook, "Vow Inspirations: Unforgettable Words for Your 10th Anniversary Vow Renewal." Created for couples like you who seek vow inspiration and sample vows, this guide will help you express your love in a way that captures the essence of a decade spent nurturing your relationship.
Inside this eBook, you'll discover a treasure trove of vow inspiration and sample vows, carefully organized into categories that reflect the richness of your connection. Immerse yourself in the sentimental section, where heartfelt words will evoke cherished memories and the deep emotions that have grown with each passing year. Explore the romantic category, allowing passion and adoration to flow through each vow, reaffirming the love that has flourished over the past decade. Unleash the laughter with the humorous vows, sharing joyful moments and inside jokes that bring lightness and laughter to your bond. Embrace the beauty of simplicity with vows that capture the essence of your love in its purest form. And finally, dive into the modern category, where contemporary expressions add a fresh and unique touch to your renewal ceremony, embracing the future with optimism and excitement.
Your 10th anniversary is a momentous occasion, a testament to the strength of your love and the bond you've nurtured over the years. Click the button below to download your complimentary copy of "Vow Inspirations: Unforgettable Words for Your 10th Anniversary Vow Renewal" and unlock a treasury of vow inspiration and sample vows that will make your renewal ceremony an unforgettable experience, celebrating the milestones of the past and the adventures that lie ahead.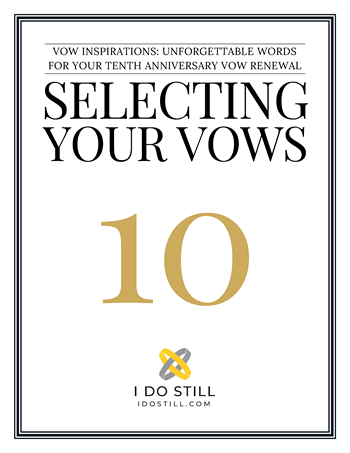 Whether you're wanting to write your own vows, looking for inspiration, or hoping to find just the right one, this guide will help.
We have brought together a collection of vows perfect for couples who are celebrating their anniversary. You should find something that speaks to your relationship and experiences together. You are invited to use them as they are, mix and match them, or simply find inspiration in them for writing your own vows.
Download your free guide now and be on your way to finding the perfect vows for your vow renewal!
Vow Inspiration - 1st Anniversary
"*" indicates required fields