Free Guide: Vows for Celebrating Making it Through Difficult Times
This guide will give tips on selecting your vows and includes sample vows for couples who have made it through difficult times together.

Whether you're wanting to write your own vows, looking for inspiration, or hoping to find just the right one, this guide will help.
We have brought together a collection of vows perfect for couples who have made it through a variety of difficult times together including illnesses, financial difficulties, and infidelity. So if you're celebrating making to the other side of these challenges together, you should find something that speaks to your relationship and the future you're looking forward to together. You are invited to use them as they are, mix and match them, or simply find inspiration in them for writing your own vows.
This guide includes:
Introduction
Chapter 1 – After Difficult Times
Chapter 2 – Reflecting on an Illness
Chapter 3 – Reflecting on Fidelity
As a bonus, we've included some wonderful quotes perfect for using on programs and other stationary for your vow renewal.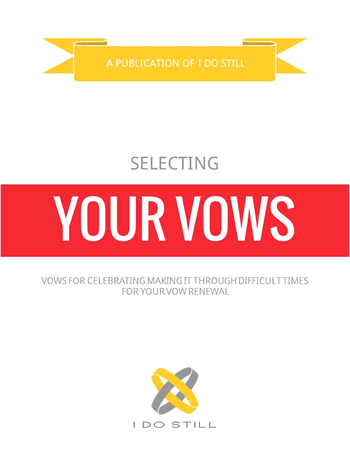 Download your free guide now and be on your way to finding the perfect vows for your vow renewal!