Free Guide: Vows for Celebrating Making it Through Difficult Times
This guide will give tips on selecting your vows and includes sample vows for couples who have made it through difficult times together.
Embrace the Strength of Your Love After Overcoming Life's Greatest Challenges
Through the storms you've weathered, the hurdles you've overcome, and the trials that tested your bond, you and your partner have emerged stronger and more resilient than ever before. Your vow renewal ceremony is not just a celebration of your love, but a testament to the unwavering commitment and courage you've shown in the face of difficult times.
Introducing our exclusive eBook, "Enduring Love: Vows for Making it Through Difficult Times." This heartfelt guide is designed for couples like you who have triumphed over various challenges, offering vow inspiration and sample vows tailored to specific situations that have tested your relationship.
Inside this eBook, you'll discover a wealth of vow inspiration and sample vows, categorized to reflect the specific difficulties you've overcome together. From financial hardships and infertility to illness and health crises, from the loss of a loved one to mental health struggles, our eBook offers a compassionate and understanding collection of vows for each unique circumstance.
Have you faced communication and relationship difficulties? Our eBook provides inspiration and sample vows that acknowledge the importance of growth, understanding, and effective communication in overcoming such challenges. If career changes or relocations have tested your bond, we offer vows that celebrate your resilience and commitment to supporting one another through life's transitions.
Parenting challenges, cultural or religious differences, external pressures, and societal expectations are also acknowledged within our eBook, with vow inspiration and sample vows that honor the strength and unity you've cultivated despite these obstacles.
No matter the difficulties you've faced, our eBook will guide you to find the perfect words that express the depth of your love and gratitude for your partner's unwavering support and companionship throughout the journey.
Celebrate your triumphs, honor your resilience, and reaffirm your love in the face of adversity. Click the button below to download your complimentary copy of "Enduring Love: Vows for Making it Through Difficult Times" and unlock a treasury of vow inspiration and sample vows designed to help you express your love in the most authentic and meaningful way.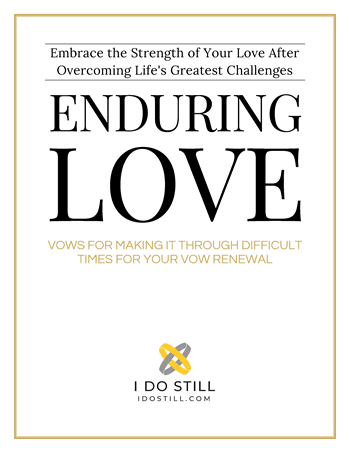 Whether you're wanting to write your own vows, looking for inspiration, or hoping to find just the right one, this guide will help.
We have brought together a collection of vows perfect for couples who have made it through a variety of difficult times together including illnesses, financial difficulties, and infidelity. So if you're celebrating making to the other side of these challenges together, you should find something that speaks to your relationship and the future you're looking forward to together. You are invited to use them as they are, mix and match them, or simply find inspiration in them for writing your own vows.
This guide includes:
Financial hardships
Infertility and pregnancy loss
Illness and health crises
Loss of a loved one
Mental health struggles
Communication and relationship difficulties
Career changes or relocations
Parenting challenges
Cultural or religious differences
External pressures and societal expectations
Download your free guide now and be on your way to finding the perfect vows for your vow renewal!
Vow Inspiration - Making it Through Difficult Times
"*" indicates required fields