Free Guide: Selecting Your Vows – After Many Years Together
This guide will give tips on selecting your vows and includes sample vows for couples who have been together for many years.
Discover the Perfect Vows for Your Everlasting Love
After years of cherishing countless memories, overcoming challenges, and sharing the deepest bond, you and your partner have embarked on a remarkable journey together. Now, as you reflect on your enduring commitment, it's time to renew your vows and reaffirm the love that has stood the test of time.
Selecting the perfect vows for this momentous occasion can be a daunting task. You want your words to capture the depth of your emotions, to reflect the unique journey you have shared, and to express the unwavering love that has grown stronger with each passing year. That's where we come in.
Introducing our exclusive eBook, "Vow Inspirations: Timeless Words for a Lifetime of Love." This beautifully crafted guide is designed specifically for older married couples like you, seeking to create vows that encapsulate the essence of your enduring commitment.
Inside this eBook, you'll find a treasure trove of inspiration and sample vows carefully curated to resonate with your journey together. From heartfelt sentiments to poetic expressions, we've gathered a collection of vows that will help you find the words to convey the depth of your love and appreciation for one another. Whether you prefer traditional or personalized vows, our eBook provides a wealth of options to suit your unique style.
Why struggle to find the right words when we have done the work for you? Our eBook is your comprehensive guide to selecting vows that will create an unforgettable moment on your special day. Each page is filled with heartfelt advice, creative ideas, and carefully crafted vows that will inspire and guide you in expressing your love in a way that truly reflects your shared experiences and memories.
Don't miss out on this incredible resource. Begin your journey to creating the perfect vows that will capture the essence of your enduring love. Click the form to download your free copy of "Vow Inspirations: Timeless Words for a Lifetime of Love" now!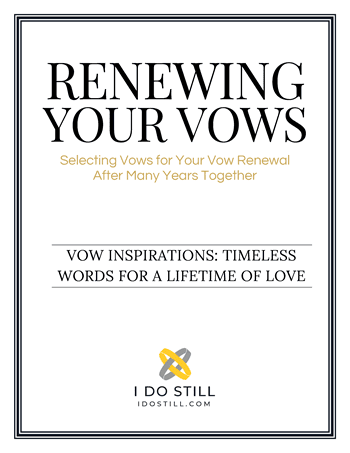 Whether you're wanting to write your own vows, looking for inspiration, or hoping to find just the right one, this guide will help.
We have brought together a collection of vows perfect for couples who either married young or simply are celebrating their marriage after many years together. So if you're celebrating your 10th to 85th anniversary, you should find something that speaks to your relationship and years together. You are invited to use them as they are, mix and match them, or simply find inspiration in them for writing your own vows.
This guide includes:
Introduction
Chapter 1 – After Many Years Vows
Chapter 2 – Married Young Vows
Download your free guide now and be on your way to finding the perfect vows for your vow renewal!
Vow Inspiration - Many Years
"*" indicates required fields