You'll have total creative control. And the responsibility to make it perfect. Do you really want it?
As you start planning your vow renewal, one of the first decisions you have to make is about your budget. Balancing your dreams with your bank account can lead you to start thinking about planning a DIY vow renewal. Given the high costs of a professional planner, caterer, florist, and other service providers, planning a DIY vow renewal might be a great option for some couples. Here are the top four things you should consider carefully before you make the commitment to handle all of the details (no matter how large or small) on your own: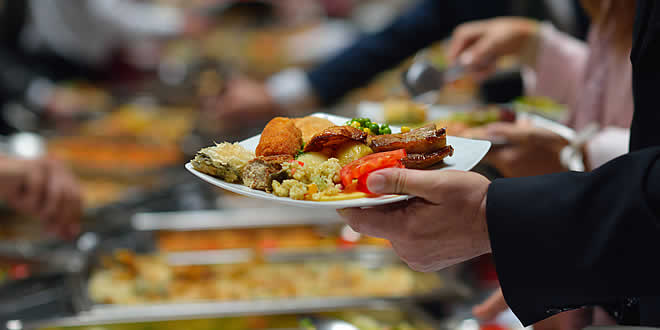 DIY Vow Renewal Reception Food
Pros: If you're planning an intimate gathering of close family and friends, DIY catering might be a great option for you. You might be able to save quite a lot of money by preparing appetizers, the main course, sides, and dessert for a small guest list. If you're blessed with a close family or friends, you might be able to recruit some to help handle this task.
Cons: If your guest list is large, will you honestly be able to manage the catering yourselves? Or perhaps, more importantly, are you sure that's how you want to spend lots of time leading up to and at your vow renewal? Catering for a large group requires a great deal of preparation, planning, time, and serving pieces at the very least. The day of the celebration, you would have to balance being the caterer and guests of honor. DIY catering will likely involve enlisting the help of some sort or opting for a potluck dinner. Doing DIY catering for a large guest list might mean opting for aligning your theme with what's practical for catering, such as an outdoor BBQ. Are you prepared to match your vow renewal theme to the realities of DIY food?
DIY Vow Renewal Flowers
Pros: Hand-tied bouquets and simple centerpieces can be fun and easy projects for creative types. You'll find countless ways to create beautiful centerpieces and floral arrangements with a few rolls of wire, twine, bold-colored ribbons, Baby's Breath, and fresh blooms in DIY books and online. This can be a great project for friends and family wanting to help out. If you have sufficient refrigerator room, arrangements, bouquets, and boutonnieres can be prepared a day or two ahead of the celebration.
Cons: If you have your heart set on a complex bouquet or arrangements, you may want to ask for the assistance of a professional florist. Don't underestimate the skill required to create a bouquet, boutonniere, or arrangement! At the very least, you should do a practice run to be sure you'll be happy with the results.
DIY Vow Renewal Music
Pros: Today's technology makes it easy to take complete control of the music played at your DIY vow renewal using a custom collection of pre-made CDs. MP3 player, or iPod with an endless playlist. Just don't forget about needing enough speaker power to fill your space!
Cons: DIYing your music means someone will have to periodically tend to the music and sound system. Also, there is the need to have a microphone and someone to make announcements. Finally, taking song requests means someone has to tend the music and have an extensive collection of songs to select from.
DIY Vow Renewal Makeup
Pros: You've been doing your makeup all of these years, and it just doesn't seem right to pay someone else to do it for you. DIY makeup allows you to take all the time you want getting the perfect look.
Cons: Granted, you've been doing your makeup for years, but when was the last time you received a compliment it? Since your vow renewal is a special occasion and will surely be filled with photo moments, you may want a look that's a little more professional and fancy than your everyday look.